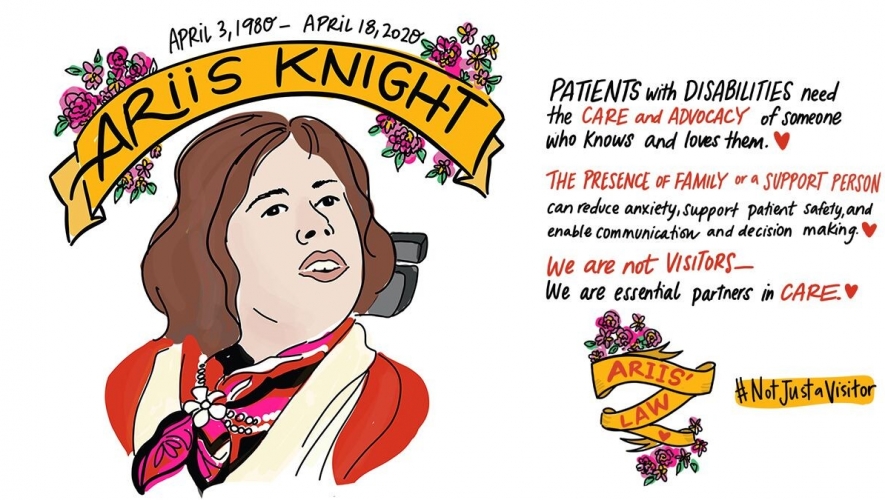 Tuesday, April 28, 2020
Image by Planned Lifetime Advocacy Network. PLAN can be found on Facebook and Twitter or on their website for additional resources.
Disability advocates are calling for a unified policy to protect people with disabilities requiring support in hospital during the COVID-19 pandemic following the passing of a woman with disabilities in a B.C. hospital. Ariis Knight, a 40 year old, non-verbal woman who lived in supported care home Semiahmoo House, was admitted to the hospital on April 15th with congestion, fever and vomiting, but did not have COVID-19.
Her support staff were not permitted to accompany her to the hospital because of visitor restrictions due to COVID-19, and she was soon put on end-of-life care. Knight passed away on April 18th alone in hospital.
Her family alleges that the hospital placed her on palliative care without consulting them, and Knight would not have been able to consent without proper communication support. In a statement to CBC news, Fraser Health said acute care staff typically ask a patient's family for additional support if they feel they can't communicate with the patient adequately but "In this case, medical staff determined that additional support for communication was not required."
The support staff at Knight's home spent two years learning Knight's non verbal communication signals, relying heavily on facial expressions.
Al Etmanski, a leader of the BC and Canadian disability rights movement and co-chair of Canada's COVID-19 Disability Advisory Group, says this situation isn't unique to Knight and her family. "I'm hearing stories from families in Prince Edward Island all the way across the country."
In a thread on Twitter, Doug Tennant of Semiahmoo House explains that in usual times, the home deploys staff to remain with persons supported 24/7 when seeking hospital care to ensure good communication and proper personal care according to the person's needs. He notes that typically, hospital workers are very appreciative of this and that it makes health care workers' jobs less stressful.
However, he also notes "But I'll tell you an uncomfortable little secret: we also send staff or ask family to accompany people with disabilities in hospitals to ensure that Do Not Resuscitate orders are not made without the person's understanding and consent."
"Those that know the history of abuse, institutionalization, forced medical procedures, sterilization and euthanization of people with disabilities understand the fear that people with disabilities, their families and care givers have at this time."
Confused language around which types of support are considered essential is contributing to decisions to deny entrance to support staff and caregivers. Global News research on each province's policies on visitor restrictions found few mentions of people with disabilities or those with communication barriers, and those that did used language open to interpretation.
Etmanski calls for a more unified approach, "Let's make it clear, readable and understandable," he said. "Let's make it available to every hospital, and let's follow it up with some basic training and orientation."
On twitter, he states: "this tragedy happened in my community. Need policy designating families & key serv. providers as essential to health care. Let's call it Ariis' Law in tribute to Ariis Knight who died alone."
---
Sources
"BC woman with a disability dies alone in hospital due to COVID-19 visitor restrictions". John Hua. Global News. April 24, 2020. https://globalnews.ca/news/6866586/bc-woman-disability-dies-covid-19
"Disability advocates say B.C. woman's death shows need for clearer COVID-19 Policy". Sean Boynton. Global News. April 26, 2020. https://globalnews.ca/news/6869079/coronavirus-bc-disability-death-reaction
"Family Caregivers as Essential Partners in Care: More than Just a Visitor". Julie Drury. Canadian Foundation for Health Care Improvement. April 20, 2020. https://www.cfhi-fcass.ca/NewsAndEvents/blog/blog-post/cfhi-blog/2020/04/17/family-caregivers-as-essential-partners-in-care-more-than-just-a-visitor
Twitter statements by Doug Tennant. https://twitter.com/DouglasRTennant/status/1254510311400304641
Twitter statements by Al Etmanski. https://twitter.com/aletmanski/status/1253787781836333057
"Woman with a disability dies alone at B.C. hospital amid COVID-19 restrictions". Meera Bains. CBC News. April 24, 2020. https://www.cbc.ca/news/canada/british-columbia/woman-disability-dies-white-rock-hospital-covid-19-1.5543468