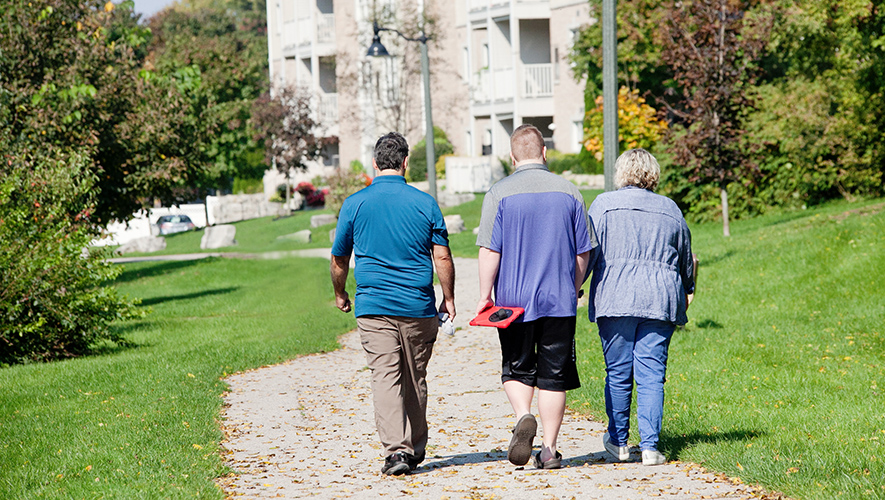 Hiring Support
Are you looking to hire a support worker for yourself or your family member? It can be difficult to navigate the hiring process and the pitfalls of Ontario employment law. Whether you're just starting to hire support or having been hiring support for a long time, it's always good to make sure that you have all your bases covered. Be sure to keep yourself up to date on Ontario employment law, your hiring and organizational system, and know your resources when you're not sure what to do. Please see the following resources to help you on your way.
Template Service Agreement (courtesy of JP Karam of Willis Business Law)
The Difference between a Contractor and Employee
J.P. Karam - management side business lawyer with Willis Business Law who has developed legal resources for families seeking assistance with employment related concerns.
Pooran Law - Toronto-based law firm specializing in a full range of law related to disability ranging from estate planning to human rights law and employment law for families hiring support.
---
Housing
It's no secret that waitlists for housing - whether residential, supported or low-income - are long and the options are not sufficient for the number of people in need. Housing is the crisis on the top of the minds of many. We don't promise to offer solutions, but we can help to network to each other and to the resources that are available so that we can work together to find options.
Social Housing - Information on social housing in London, ON
Housing Stability Bank - A resource which assists people with making first and last payments to secure housing or can assist with rental arrears.
Ontario Developmental Services Task Force - a group for sharing resources and creative ideas for housing.
Indwell - A charitable group creating affordable, supportive housing in Ontario. Currently supports two apartment buildings in Woodstock, ON. A downtown London-based project is in development.
---
Future Planning
Future Planning Tool Online - a tool which can assist those living in Ontario and BC with identifying the necessary legal and financial steps to ensure a secure future for your loved one with a disability.
Planning for a Crisis Workshop - This workshop was developed by Independent Facilitator Cristin Osbourne of Kitchener-Waterloo from her experiences working with individuals and families experiencing crisis. Families are guided through a process of making thoughtful plans for their loved one to set up supports for crisis reduction/prevention. Family Network Thames Valley attempts to bring Cristin to London and area periodically, but she can also be contacted directly about the possibility of hosting a workshop for a group of families by email at facilitation.co@gmail.com.
Safe and Secure - A workbook by Planned Lifetime Advocacy Network (PLAN) with information on financial, legal and community based resources to assist families with building a good life for their loved on with a disability.
Partners for Planning - Toronto-based resource network for caregivers and families of loved ones with disabilities, including free webinars on topics such as ODSP, RDSPs, estate and will planning, Disability Tax Credit, building friendships and networks, and more. Ontario-wide resources available.
Pooran Law - Toronto-based law firm specializing in a full range of law related to disability ranging from estate planning to human rights law and employment law for families hiring support.
---
Sibling Resources
Are you a sibling to someone with a developmental or intellectual disability? If you are, you play a key and unique role in your sibling's support network. Unfortunately, the complexity of a sibling's role largely goes unrecognized, and siblings rarely have the benefit of networking with one another. The following resources are designed to speak directly to the sibling experience.
The Sibling Collaborative Website - An Ontario based group for Canadian siblings of loved ones with disabilities. Website includes resources and news.
The Sibling Collaborative Facebook Page - Facebook group for the Sibling Collaborative, for siblings of individuals with disabilities only. Discussion and resource sharing.
Through Thick and Thin (ebook) - An ebook created through the Sibling Collaborative with stories of siblings' experiences in growing up and caring for their sister or brother with a disability.
Understanding the Sibling Experience (report) - A report created by the Sibling Collaborative as a result of a survey completed by siblings.
*Please note: Family Network Thames Valley holds occasional local gatherings for siblings.
---
Developmental Services Agencies
Alice Saddy Association - London-based agency which manages supported independent living arrangements for individuals with disabilities. Provides customized support according to the needs of the individual. Referrals for support are made by DSO SWR.
Anago - London-based agency providing group home care and daytime programming in Strathroy, Exeter and London.
Community Living - Agency with multiple locations (London, St. Mary's, St. Thomas, Aylmer, Tillsonburg, Strathroy). Offers day programing, support workers, family supports, recreational programing, employment support, etc.
Community Service Coordination Network (CSCN) - London-based main office which assists individuals and families with accessing and navigating Passport Funding. This office may be able to assist you with learning your status on the waitlist and can assist families managing their Passport funding to correctly submit their expenses to the new Passport system in Toronto.
Crest Support Services - Middlesex County-based agency with supports in Lucan, Ilderton, Ailsa Craig, and Granton. Provides residential services for individuals with developmental disabilities and/or mental health illnesses, training and employment opportunities, and educational and leisure activities.
Developmental Services Ontario South West Region (DSO SWR) - London-based main office which acts as a starting point for individuals and families wishing to access resources provided by the Ministry of Children, Community and Social Services. If you wish to be put on a waitlist for residential housing, adult protective services, Passport funding, respite, etc., you must begin by contacting DSO SWR. Families in crisis with a connection to DSO may wish to contact their Service Assessor/Navigator to provide updates on their status.
Family Directed Alternatives - London-based group which unites families to advocate for the growth and expansion of services.
Family Service Thames Valley - London-based agency which provides Adult Protective Service Workers (service accessible only through the DSO waitlists) and administration of Passport funds (may include matching individuals to support workers. Requires a 10% administrative fee for Passport administration.
Forward House of London - London-based agency which offers in home support for adults with disabilities and support in education, employment, leisure, and community life.
Hutton House - London-based agency which provides a variety of supports to individuals with disabilities including employment services, educational programs, day programs, recreational programming, social worker services, etc. They also can assist with administration of Passport funds, and hiring/managing support workers. Passport administration requires a 10% administration fee.
Ingersoll Support Services Inc. - Ingersoll-based agency which offers individualized support including person directed planning, services at home, community participation supports, and employment support.
Participation House - London-based agency which provides a variety of supports to individuals with developmental disabilities and/or complex physical needs. This includes assisted living, day respite, overnight respite, recreation and leisure programing, volunteer programming and administration of Passport funds.
Quad County Support Services - Wardsville-based agency in Elgin County which serves individuals from Middlesex, Elgin, Lambton and Chatham-Kent counties. Offers day programing and family supports.
VON Canada - Agency with multiple locations across Elgin, London, Middlesex and Oxford. Provides numerous services including personal care, day programming, Passport administration, support workers, etc.
Woodstock and District Developmental Services (WDDS) - Woodstock based agency which offers a variety of services including education, leisure, communication tools, and residential supports, connecting with support workers, employment support and family services.
If you have a resource to recommend to other families, whether it's a lawyer who was helpful to you with your estates or place that has offered your loved one exceptional services, we'd like to hear about it! There's no better recommendation than one that comes from a family. Email info@fntv.ca to share your resources with others.
---
Advocacy
In a provincial climate where cuts to funding are a part of the reality of the political system, it is more important than ever to advocate to maintain the funding that helps families keep their lives afloat. We must take steps to make it clear that funding families is not just the right thing to do, but that it is the smartest way to save on costs to the system down the road in health care. Families provide care to their loved ones that is infinitely less costly than any institutional system can offer, with far better quality of life provided. The resources below are just a short starting list to help you get off the ground.
Family Alliance Ontario (FAO) - an autonomous alliance of citizens who offer knowledge, tools, and networking opportunities, to individuals with disabilities, their families and friends. Stays in touch with members primarily through an email newsletter.
Toronto Family Network - The Toronto Family Network provides support and information to families navigating the education system and other sectors involving their family member with a disability. Stays in touch with members and provides resources primarily through an email newsletter.
MPP Contact List
MP Contact List
Sample Advocacy Letter
Tip Sheet for Meeting with an MP/MPP